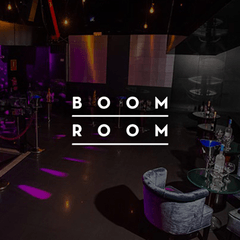 Saturday - Boom Room - Guest List
Boom Room Madrid – 23:59h –
House / Reggaeton
National and International
+25
Elegant
To obtain access to the VIP List or reserved VIP tables with bottles, send us a message via Whatsapp on +34 692 383 870.

Free Girls before 2:30am OR offer of 2 drinks for 15 €, then 15€ a drink.
Free Guys before 2am OR two drinks for 18€, then 15€ a drink.
Enjoy the most exclusive Saturdays in Madrid at the Boom Room.
Music at Boom Room Madrid
Sala principal
House / Reggaeton / Commercial
Photos of Boom Room Madrid
Boom Room Madrid
Club Boom Room Madrid - Free access with VIP guest list - Antonio Calero Guest List - Exclsuive club in Madrid. Read more
Very close to the Hotel Eurobuilding, Boom Room Club was formerly known as the Monet room. Today, with a completely renewed design and concept, it is one of the most select clubs in Madrid, with the best varied music and a strict dress code to guarantee the best atmosphere and public (between 25 and 35 years). A new concept aimed at the elite society of Madrid.