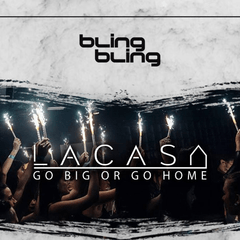 Wednesday - Bling Bling - La Casa - Antonio Calero Guest List
Bling Bling Madrid – 23:59h –
Funky / R&B / Reggaeton
National and International
Boys and Girls +22/+21
Smart
Guys: Acces with Open Bar for 10€ until 1:30. After € 15 with one drink
Girls: Free Access with Free Open Bar until 1: 30h. After € 15 with one drink

Bottles from 150€ writing by Whatsapp to +34 692 383 870.
La Casa is the new session that will revolutionize the night in Madrid. With the best Funky music of the moment and the most TOP public in the capital, your most incredible nights await you. GO BIG OR GO HOME.
Music at Bling Bling Madrid
Sala principal
House / Reggaeton / Commercial
Photos of Bling Bling Madrid
Bling Bling Madrid
Club Bling Bling Madrid - Free access with VIP guest list - Madrid Lux Guest List - One of the most exclusive and selected clubs of the capital. Read more
Bling Bling Madrid lands in the capital to change the Madrid night, is synonymous with elegance and exclusivity. Get ready to not want to live another night other than Bling Bling.