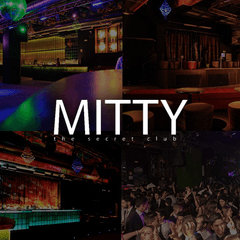 Friday - Mitty (Cats) - Antonio Calero Guest List
Mitty Madrid (ex-Cats)

– 23:59h –
Reggaeton / Commercial
National and International
+18
Smart
ANTONIO CALERO GUESTLIST:

GIRLS: Free bar from 1: 00h to 3: 00h for 6 €
BOYS: Free bar from 1: 00h to 3: 00h for 12 €
Emblematic club of Madrid's nightlife scene, now called MITTY, adapted to the new era with new features, but true to their policy of always having an exclusive clientele and good music.
Music at Mitty Madrid (ex-Cats)
Photos of Mitty Madrid (ex-Cats)
Mitty Madrid (ex-Cats)
Club Mitty Madrid (formerly Cats) - Free access with VIP guest list - Madrid Lux Guest List - The most fun party of Madrid. Read more
The new nightclub Mitty is located in the old club Cats. The venue has been refurbished with better and more modern facilities (sound, lighting, capacity, bars), consolidating itself as one of the most emblematic and attractive options in Madrid's nightlife scene aimed to a young / college crowd, just as the venue has been doing since 1989 with the name of Cats.