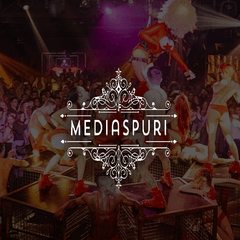 Friday - Medias Puri - Antonio Calero Guest List
Medias Puri – 23:59h –
House / Reggaeton / Commercial
National and International
Girls +19 / Boys +25
Smart
To obtain access to the VIP List or reserved VIP tables with bottles, send us a message via Whatsapp on +34 692 383 870.
Medias Puri hides a secret! Come tonight and discover it.
Music at Medias Puri
Sala principal
House / Reggaeton / Funky
Photos of Medias Puri
Medias Puri
Club Medias Puri Madrid - Free access with VIP guest list - Madrid Lux Guest List - One of the most exclusive and selected clubs of the capital. Read more
Medias Puri landed in Madrid with one intention: To be a fashionable, exclusive and which keeps a secret that you can only discover by living one night to her. Medias Puri is a room that has an approximate capacity of 1000 people, has 3 completely different rooms where you can live shows, house music, electronics, disco music of the 80s, urban ... All this combination make a delicious cocktail so you can live a perfect night !.