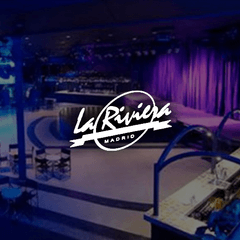 Viernes - La Riviera - Reverse - Guest List
La Riviera Madrid – 23:59h –
Electronic / House
National and International
+18
Casual
To obtain access to the VIP List or reserved VIP tables with bottles, send us a message via Whatsapp on +34 692 383 870.
In this spacious room is where some of the most important events of electronic music in Madrid take place. Enjoy it every Friday night.
Music at La Riviera Madrid
Sala principal
House / Reggaeton / Commercial
Photos of La Riviera Madrid
La Riviera Madrid
Club La Riviera Madrid - Free access with VIP guest list - Madrid Lux Guest List Read more
Without a doubt, La Riviera is one of the largest and most spectacular nightclubs in Madrid, known for its ability to create some of the most prestigious events and shows in town to be enjoyed through its 3500 square meters, fully furnished and accompanied by their go-go dancers, moving to the beat of the latest music, which varies depending on the session.