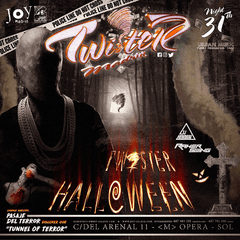 Wednesday - Joy Eslava - Antonio Calero Guest List
Joy Eslava – 23:59h –
House / Reggaeton / Commercial
National and International
+18
Casual
Say at the door List ANTONIO CALERO:
GIRLS: Invitation to drink until 00: 30h Free admission until 1: 30h. After a glass € 15 or two glasses € 20 until 02: 30h.
GUYS: 1 glass for € 10 until 1:00. After a drink for € 15 or two drinks € 20 until 2: 30h
The new Joy Eslava Thursdays have arrived!
Music at Joy Eslava
Sala principal
Reggaeton / House / Commercial / Others
Photos of Joy Eslava
Joy Eslava
Club Joy Eslava Madrid - Free access with VIP guest list - Madrid Lux Guest List - Nightclub located near La Puerta del Sol. Read more
Joy Eslava Madrid is a nightclub located in the heart of the capital, 5 minutes away from the Puerta del Sol, formerly known as the famous Teatro Eslava. It is one of the most legendary venues in Madrid as it opened its doors in 1981. Since then the club has continued to make us vibrate with each of their parties and has become a point of reference both nationally and internationally.