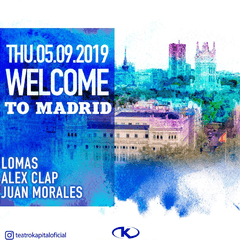 Thursday - Teatro Kapital - Guest List Madrid Lux
Kapital – 23:59h –
House / Reggaeton / Funky / Others
National and International
+18
Casual
From 00: 00h to 1: 30h 2 drinks € 17 after 15 € a glass showing with your mobile the BIDI CODE that will arrive to your email by filling out the form (you must send it to your friends).
Free admission with Lista Madrid Lux before 1: 00h or until full capacity of VIP Lists. (It is recommended to go at 00:10 due to the great influx)
Soon starts the weekend and that's why you can not miss the Thursday of kapital. Come and dance the best commercial house music, reggeton and all the Hits of the moment in its 7 floors with the most international audience in the city.
Music at Kapital
Sala principal
House / Reggaeton / Funky / Others
Photos of Kapital
Kapital
Club KAPITAL Madrid - Free VIP Access - Madrid Lux Guest List - The most exclusive and selective club in Madrid. Read more
Teatro Kapital Madrid is known worldwide for its structure: the building is divided into 7 floors totally independent of each other, and in which you can enjoy totally different environments:

Ground Floor: "Main Floor" - Music House and Dance.
1st floor: "The Privee" - VIP area and wardrobe.
2nd floor: "Music Studio" - Karaoke.
3rd floor: "The Box" - Funky Music and R&B.
4th floor: "Kissing Room" - Cocktail Bar and Bombay Sapphire.
5th floor: "" The Party "- Varied music.
6th floor: "Mojito and Cuba Libre Bacardi Area" - Latin Music.
7th floor: "The Terrace" - Smoking Area and Lounge Bar.