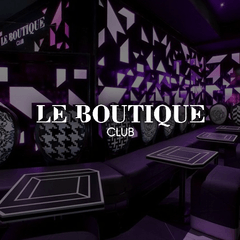 Thursday - Le Boutique - Antonio Calero Guest List
Le Boutique Madrid – 23:59h –
House / Reggaeton / Commercial
National and International
+18
Smart
Contact us via WHATSAPP to access by VIP LIST and obtain the following discounts:
Boys and Girls: Free from 00:00 to 01:00 with FREE BAR. From 01: 00h are 13 € 1 glass.
Funny people, national and international atmosphere! Tonight is your craziest night and you live in Le Boutique.
Music at Le Boutique Madrid
Sala principal
House / Reggaeton / Commercial
Photos of Le Boutique Madrid
Le Boutique Madrid
Club Le Boutique Madrid - Free access with VIP guest list - Antonio Calero Guest List - Exclusive club in Madrid. Read more
Le Boutique Madrid is a brand new club located on the prestigious Serrano street, in the heart of Madrid's Golden Mile. It is a great bet for fashion and design that is reflected in its interior design of luxury and subtle references to the most glamorous cities in the world, directing its proposal of nightlife to the most exclusive public of the city. Le Boutique stands as one of the most elite clubs in Madrid, blending the elegance of its atmosphere with the fun and good work of its well-differentiated parties, ready to be enjoyed both on the track and with its exclusive VIP table service.