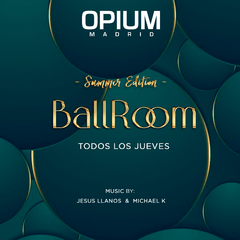 Thursday - OPIUM Madrid - Salvajes - Madrid Lux Guest List
OPIUM Madrid – 23:59h –
House / Commercial / Funky
National and International
Girls +21 / Guys +23
Elegant
MADRID LUX GUESTLIST:
To obtain access to the VIP List or reserved VIP tables with bottles, send us a message via Whatsapp on +34 692 383 870.
BOYS: Entry in Free VIP list until 1:30. Then 1 glass for 15 €.
GIRLS: Free VIP list entry until 1:30. Then 1 glass for 15 €.
OPIUM Thursday in Madrid are wild. The most glamorous room Madrid becomes a carefully decorated jungle, but is a special jungle ... because their tribal sounds come from the best house music that mixes in the cockpit by its residents Jesus Llanos and Michael K.
Music at OPIUM Madrid
Sala principal
House / Reggaeton / Funky
Photos of OPIUM Madrid
OPIUM Madrid
Club Opium Madrid - Free access with VIP guest list - Madrid Lux Guest List - One of the most exclusive and selected clubs of the capital. Read more
With their concept of Club and Restaurant, OPIUM Madrid has been established as a synonym of exclusivity and elegance in the capital's nightlife scene. OPIUM Madrid will delight all those people looking to enjoy one of the best nights of the capital in the most sophisticated ambience.