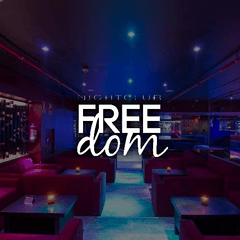 Thursday - Freedom - Antonio Calero Guest List
Freedom – 23:59h –
Reggaeton / Commercial
National and International
Girls +19 / Boys +23
Casual
Antonio Calero Guest List:
GIRLS: Invitation to drink until 1: 30h. Free admission until 02:00 or 1 cup € 8 or 2 drinks € 12.
GUYS: Free admission until 1:00 or 1 cup € 8 or 2 drinks € 12. From 02: 00h until closing 1 cup € 10 or 2 glasses € 15
Bottles from 100€ booking by Whatsapp to +34 692 383 870
Thursdays come strong in Freedom! The most TOP music of the moment with the funniest parties in the capital.
Photos of Freedom
Freedom
Club Freedom (Liberata) - Free access with VIP guest list - Antonio Calero Guest List - Exclusive club in Madrid. Read more
The Freedom nightclub is set in what was known for many years as the Liberata nightclub, and presents an ideal space for those who seek to escape from the routine and enjoy a night of fun and good music. Currently, the Freedom nightclub stands on the night of the capital as one of the most glamorous and select clubs in the Cuzco area.