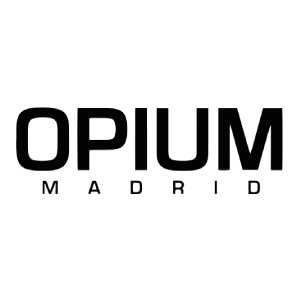 The Opium Madrid nightclub located on Calle de José Abascal, in the Chamberí area of ​​the Madrid capital, is a combination of a nightclub and a restaurant, which over the years has become well-known around the world, since it is also found in London and Barcelona. Opium Madrid entrance price. No comissions, no extra charges. Best price guaranteed. This nightclub opens every day of the week throughout the year to offer the most spectacular parties with the most exclusive atmosphere you will ever see.
Just by seeing its luxurious entrance, it makes you want to access the interior and give it your all; All its decoration is the most avant-garde and modern with large spaces so you can dance until they close. You can enjoy its spectacular parties from its incredible dance floor, or from your VIP table , since the Opium Madrid nightclub has different VIP areas where you can live a most glamorous experience. Buy your tickets as quickly as possible before they are sold out, and if you don't want to party, don't worry, Opium Madrid has another option for you to come, its incredible restaurant with the most exquisite dishes. Opium Madrid club ticket price. Best price guaranteed.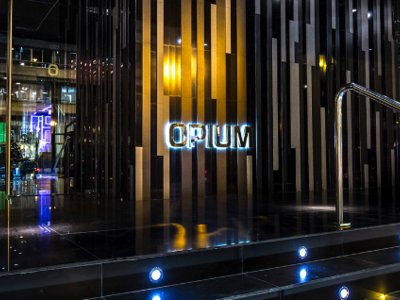 In order to enjoy the incredible parties that the Opium Madrid nightclub organizes every week, you have up to three different ticket options to choose from. Here, we are going to explain how to get each type of tickets and what benefits you can get with each of them.
Tickets for Opium Madrid

General tickets without List , is one of the options you have to be able to enter the Opium Madrid nightclub. To get the simple tickets you can do it from our website or at the box office that you can find at the door of the club. The price of tickets at Opium can vary depending on the day of the week, the party or if there is a DJ or guest artist, even so the price is usually around €20 with a drink. We advise you to buy the ticket in advance to ensure that you will be able to enter.
List tickets are the most recommended and beneficial option for all those who do not want to spend a lot of money on tickets. Signing up for the Opium Madrid List gives you the chance to enter for free or get a discount on tickets until a certain time of the night . Also, we must tell you that this option is widely used since you can sign up alone or with your friends and it is also available every day of the week, so you can sign up for all the parties you want, except on Saturdays.
If you want to join the Opium List with your friends, the process is very simple . Enter the MadridLux website, select the Opium Madrid nightclub party you want to go to, fill in the form and choose the number of companions that will come with you and click on the final golden button, and you will be signed up It is important that Come before the access limit time, otherwise you will not be able to enter through the List and you will have to buy the normal tickets.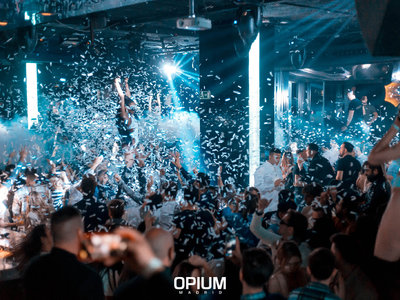 The last ticket option you have is to reserve a VIP table at Opium Madrid . It is the perfect ticket if you are looking to live an exclusive experience at the Opium Madrid nightclub and if you want to have a little more privacy and comfort. By making the reservation, you and your companions will have free tickets, in addition to your own reservation, a simple bottle and soft drinks. The price to reserve a VIP table may vary depending on the people you are, the bottle you choose or the VIP table you choose. Entrance for access on Friday. Best price guaranteed. Secure your entrance and don't stay out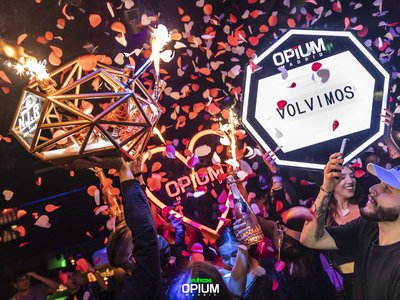 The ticket options that we have just explained to you do not guarantee you access to the interior of the Opium Madrid nightclub , so, apart from having your ticket, you must meet certain requirements that the club has. The first requirement is the minimum age in Opium, which is 21 years old and, to verify that you are of age, you will need to show your original ID or passport and that they are not expired to the doormen who are at the entrance, so do not you forget it Another important requirement is clothing in Opium, which must be neat and elegant., people dressed in tracksuits, sportswear, sleeveless shirts, ripped pants, flip flops, etc. are not allowed. If you comply with these two regulations, you will be able to enter and enjoy the incredible parties offered by the Opium Madrid nightclub, if not, we do not guarantee that you will be able to enter. Ticket to enter Opium Madrid club on Saturday. Buy your ticket in advance before they run out.
Finally, before coming, you will also need to know certain aspects to ensure that your night is going to be spectacular, these are: Opium's schedule, the type of music at Opium since it can vary depending on the party you are going to, the limit time for access by List, the price of admission to Opium, etc.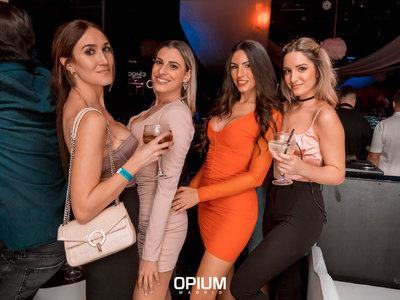 The Opium Madrid nightclub, one of the best nightclubs in Madrid , likes to take care of every detail and make each of its clients live a great night of madness and partying, so don't hesitate for a moment and get now your tickets to go to the next event you have prepared, we assure you that you will want to come back every week. Buy your tickets in advance for Opium Madrid club. No commissions, intermediaries or additional cost. The best price, guaranteed
If you have any questions, you can click on the following link where you will find more detailed information about the impressive Opium Madrid nightclub and you can also buy your tickets in advance for its spectacular parties.

Contact Opium Madrid
Reservations +34 692 383 870