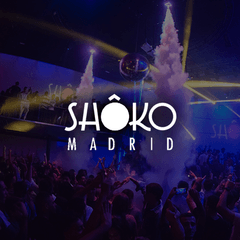 Sunday - Shoko - Swag City - Antonio Calero Guest List
Shoko

– 23:59h –
Reggaeton / R&B / Hip Hop
National and International
+18
Casual
ANTONIO CALERO GUESTLIST:

To obtain access to the VIP List or reserved VIP tables with bottles, send us a message via Whatsapp on +34 692 383 870.
Shoko Madrid is a meeting point for the most exclusive and funnest local and foreign audience in the city, each night seeking new experiences and emotions. In addition, the technical team and servers and employees of Shoko Madrid will make you enjoy an unbeatable party atmosphere, surrounded by beautiful people and wishing to have a good time.
Music at Shoko
Sala principal
Reggaeton / Commercial / R&B
Photos of Shoko
Shoko
Nightclub SHOKO Madrid - Free access with VIP guest list - Madrid Lux Guest List - Club located in la Puerta de Toledo. Read more
Shoko Madrid is located in the heart of Madrid and is open four nights a week: Thursdays, Fridays, Saturdays and Sundays. Each party is unique and unrepeatable, where you can enjoy of the best national and international DJs, thanks to its varied agenda of concerts and events that will always leave you wanting more.