Club Graf
is one of the most exclusive venues in Madrid where we offer to our clients a premium service in a space that has the best atmosphere in the capital. Exclusive parties, unique events and the music of the best DJs.
Club Graf
has 3 VIP zones that vary their minimum spending per table depending on the location of this. As we enter to
Club Graf
we have the restaurant area or the first bar this area is the quietest and passing area of ​​the discoteque, on the other hand if you are looking to mimetize in the dancefloor you have the VIP DJ area where you will dance at the same time you have the space to feel comfortable and without anyone bothering you.

HOW TO BOOK A VIP TABLE AT THE MADRID CLUBS?
• We proceed to reserve the tables requested with the club directly and send you confirmation of the same by e-mail.
TERMS
• Standard Restaurant Zone Table: from € 150. (max 5 people)
• VIP table: from € 170. (max 4-5 people)
• Dj VIP Table: from € 500- € 1000. (max 12 people)
• Each table includes 1 bottle and 10 soft drinks to mix the glasses: Coca Cola, Sprite, tonic, juices and Red Bull.
• These prices only include 75cl bottles of basic brands such as Absolut, Ballantine's, Beefeater, Brugal. Premium brand bottles are more expensive.
CLUB PHOTOS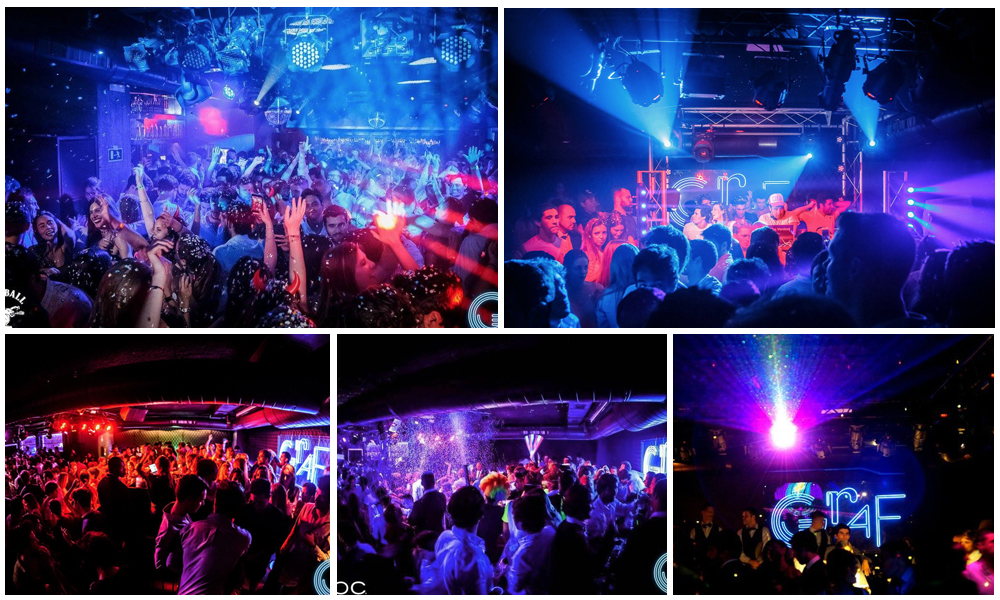 HOW TO PAY?
• Lista Antonio Calero offers the VIP table reservation service free of additional charges.
• It is not necessary to pay in advance to reserve the tables. Except during special events such as New Year's Eve or a large number of people, the total payment of the reservation is made directly at the club.
WHAT SHOULD I DO WHEN I ARRIVE AT THE CLUB?
• Upon arrival, say you have a VIP table reservation to your name made by MadridLux.
• There is no need to queue.